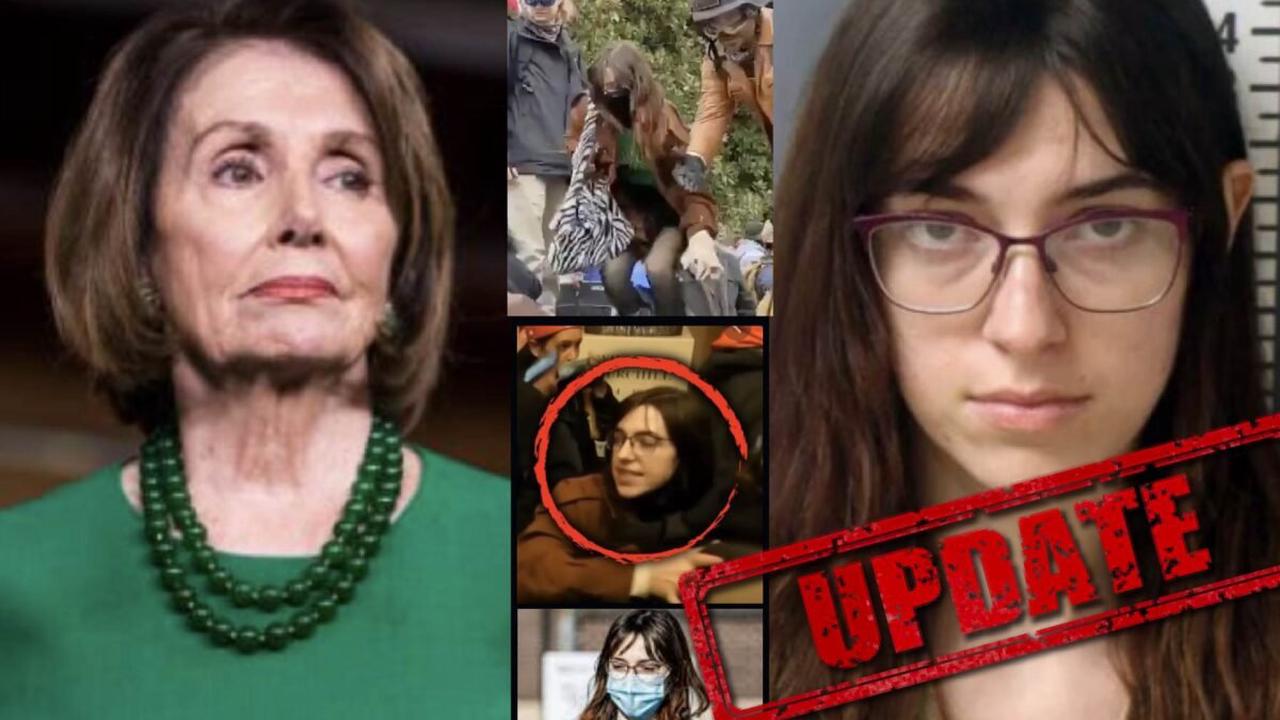 So, we've been told that Nancy Pelosi's laptop was stolen during the melee at the Capitol in DC.
It was such a huge deal that a "manhunt" was underway to find the culprit and the laptop. Authorities claimed they identified the person who stole the laptop. They say it was a 22-year-old Pennsylvania woman by the name of Riley June Williams.
And soon after she was identified a story emerged that this 22-year-old woman was trying to sell Pelosi's laptop to the big bad boogieman Russians.
I don't know about you, but to me, that story sounded like liberal "fan fiction."
Furthermore, many people don't believe this woman is a 'Trump supporter." And I tend to agree…she's got that "He's Not My President" look going on. From the millennial-rimmed glasses to the stringy drab hair, she has "I ❤️Avacado Toast" written all over her progressive face.
But the media narrative is that she's a Trump supporter who is working with her buddies in the KGB.
Okay, whatever. 
Below is a supposed video of Riley June making her "get away" with the "laptop."
Many people thought this video was strange too – for a number of reasons – personally, I thought it looked odd because I didn't know laptops were "round."
Look at the shape of the object in the bag she's carrying. It's definitely got a "round" shape to it.
https://twitter.com/FuctupMike/status/1351241558193008643?ref_src=twsrc%5Etfw%7Ctwcamp%5Etweetembed%7Ctwterm%5E1351241558193008643%7Ctwgr%5E%7Ctwcon%5Es1_&ref_url=https%3A%2F%2Fnews-wire24.com%2Fvery-strange-turn-of-events-in-pelosi-laptop-case%2F
The FBI was tipped off about Riley June by a "former boyfriend." Apparently, he called a tipline and said that his ex had the laptop and was trying to sell it to the KGB, or something like that.
Former boyfriends might not be the most '"trustworthy" of sources, because now a new narrative is emerging in this very strange case.
But during the hearing Tuesday, the purpose of which was to set the conditions of her house arrest, her defense attorney, federal public defender A.J. Kramer, argued that Williams' house and her car had been searched, and she did not have the laptop.

"In the allegation of the theft of the computer, she's charged with aiding and abetting, not the actual theft itself," Kramer said during the hearing. "In fact, [law enforcement] searched everywhere, and she does not have the computer. They searched the car and the house."

Following the hearing, Kramer told BuzzFeed News over the phone that Williams denies all of the accusations made against her — from the theft itself, including aiding or encouraging the theft, to the allegations of attempting to sell it to Russia — and alleged that they were all lies all made up by an ex who, as he said in the hearing, "vowed revenge on Williams for various things." Williams has filed for a restraining order against that ex, Kramer added.

Kramer added that he "thinks" that Williams never had the laptop at all.
So, in a nutshell, the defense of Riley June is a timeless one. They're claiming that the entire story was made up by a vengeful ex who used the opportunity to get revenge and make his former girlfriend's life a living hell.
She says that she never had the laptop, and never tried to sell it to the Russians.
Now, I'm not sure about any of that, but again, I'd say that Riley June Williams, who looks like a modern-day Manson Family girl, is not a  "MAGA" patriot.
I'd be more curious to see her past political posts than anything else.
At any rate, this entire thing, from top to bottom doesn't pass the smell test.
ARTICLE SOURCE : https://www.waynedupree.com/